Bike Nowa Nowa
_____________________________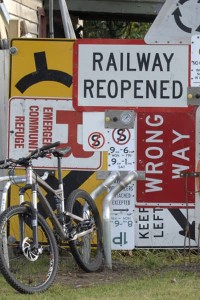 Nowa Nowa has become the bike mecca of the East.
Stay at the quirky Nowa Nowa retro Caravan Park to access all the bike trails you could want.
7 Bridge St Nowa Nowa Vic 3887 
nowanowacaravanpark.com.au
Ph Stephen Stewart 0423545318
Mt Nowa Nowa
Mountain Bike Park. 20 kms. of mountain trail bike trails and 15 kms. dual purpose tracks (walking, cycling)
Commence at general store, 1 km to start on Old Buchan Rd. Located on left just before 100 km. roadside speed sign.
The trail has an easy ascent, (track 1) then choices of trails down (2,3,4,5) over several kilometres, with a range of features to suit all riding abilities.
Get your confidence and improve your bike handling skills on the easier loops,(6,7,suitable for young kids) then progress into more challenging trails.
Dual Purpose trails linking with the Rail Trail. Several kilometres of dual purpose trails (walking, cycling) that take in Mt. Nowa Nowa, Fairweather track, Lambournes Break and Drivers Break, providing a tranquil and scenic bush experience. Suitable for all ages and fitness levels. You can also walk to the summit of Mt. Nowa Nowa and take in the stunning view where the historic fire tower once stood prior to the bushfires in 2019/20. This is accessed from the top of track 5 where there is a bike rack and a picnic table.
Nowa Nowa bike trail map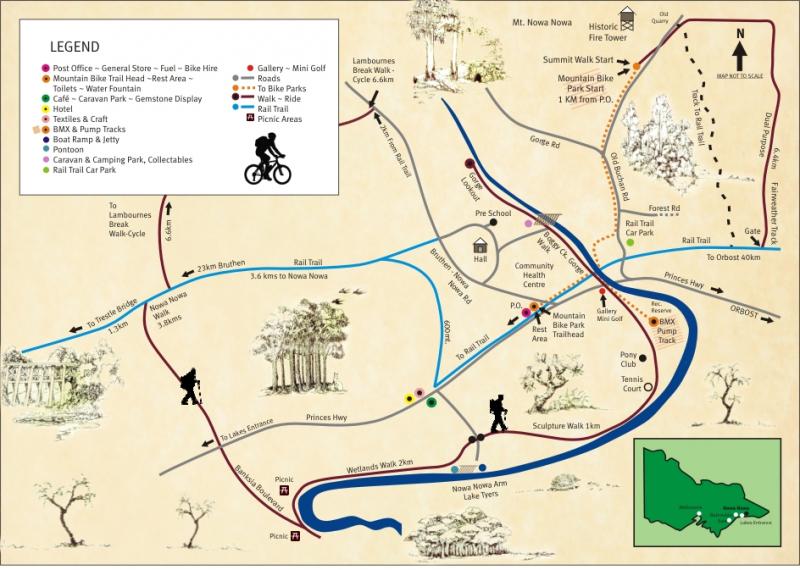 BMX track is located on the recreation reserve with the entrance next to the pony club grounds.